Here's our take on Zee 5's 'Churails' – how has the groundbreaking web series grabbed the title of 'revolutionary?' Read on!
OMAIR ALAVI UPDATED 27 AUG, 2020 02:50PM
They came, they saw and they changed the whole scenario; that's the best way to describe Zee 5's Churails for it changed the meaning of web series in the country. Being only the second Pakistani web series ever (after Enaya) and the first one to be produced under the banner of Zee's Zindagi, people expected a lot from it. Some believe it exceeded expectations and others feel it didn't meet any; whatever the views are, Churails did put the wheel in motion for the future. For those who claimed Asim Abbasi's Cake was a one-time thing, Churails proves that it wasn't a fluke and the director has more to offer to his growing fan base. With this raw yet revolutionary web series, Pakistan has raised the bar of its production values from where going up is the only way forward.
The Plot
Four women from different backgrounds – Sara (Sarwat Gilani), Jugnu (Yasra Rizvi), Zubaida (Mehar Bano) and Batool (Nimra Bucha) – come together after experiencing different stages of grief. Sara is a housewife whose husband (Omair Rana) sends 'dirty messages' to young girls across the globe, Jugnu's career as a wedding planner was downed by a chandelier, Zubaida wants to become a boxer but her conservative family doesn't approve it, while Batool served jail time for murdering her pedophile husband. They meet by chance, but plan ahead to create a Boutique where on the front they sell Burkas but in reality run an underground operation against cheating husbands, wife beaters and similar low lives. However when their 'agency' turns into a feminist movement, things go out of hand and they have to finish what they started, before it's too late.
The Good
Churails is Pakistan's answer to the many web series produced in India; it proves to the world that in this region, there are other countries that have their own stories to tell. The ten-episode series has been crafted in such a manner that it caters to all kinds of people. Sarwat Gilani Mirza leads the cast that also includes Nimra Bucha, Yasra Rizvi and Mehar Bano and together they go 'the A Team' way, only taking cases where the men are to be dealt with. Each character has a backstory that is revealed as the series progresses and while many celebrities make blink-and-a-miss appearances, a lot of them help in making Churails a household name.
Let's talk about the performances first – Nimra Bucha and Sarwat Gilani Mirza were the most expressive of the lot, Yasra's character was the most annoying (means it served its purpose) whereas Mehar Bano seemed edgy at times. Nimra Bucha doesn't do much TV but has made her presence in films and stage, and she used all that experience here to make the audience take note of her, whether she is silent in a scene, or talking to another character. Sarwat Gilani Mirza took the lead in the first episode and portrayed her character in such a manner that people could relate to her, especially the elites of the city. Yasra Rizvi's performance might seem irritating to some but that's how wedding planners are in Pakistan, and she captured the essence perfectly. Mehar Bano looked pretty and even had good boxing scenes but when she didn't resist his parents' attempt to get her married to an unknown person, that's where she lost the viewer's respect. She could have boxed her way out as she was neither drugged nor bound, yet she waited to be rescued making her a lesser Churail in the audience's eyes.
As for the men, Fawad Khan takes the cake with his expressive and intelligent performance. Even when he isn't on the screen, he manages to make an impact with his voice, thanks to his theatre training. How he manages to gain the trust of the ladies and how he helps them execute their plan is what keeps him relevant in their book, as well as in the audience's minds. Omair Rana plays a rich husband with typical husband issues; one moment he is the most hated person and the other he sympathizes with his wife and even offers to help her. To do that, you have to be either a marvelous actor or a very experienced one, and he is both.
And finally something about the men at the helm. The series is co-produced by Asim Abbasi and Mo Azmi; kudos to Mo's cinematography which even made me wonder which Karachi he was showing, but he has done that before in Jalaibee, Cake, Laal Kabootar and continues the good work in Churails too. The Karachi shown in the web series is surely the one we live in but not that is shown on TV, and both Asim and Mo deserve the credit for that. Some of the lines in the script are very well-researched and if the duo continues to work with the same zeal and fervor, the follow up season would be even better since it will come after they have laid the first brick, and built a sound foundation.
The Bad
Unlike Pakistani dramas, Churails is fast paced but too lengthy; the average viewer's attention span on this side of the Wagah border is 35 to 40 minutes, and to make them sit for nearly an hour is like making them sit on a ticking bomb. The editing in the first episode was good but then the director seems to have forgotten to 'direct' the editor and the audience found themselves watching lengthy scenes that could have been trimmed. Then there was the crass language used that kept most of the housewives (the original target audience) away from even going for Zee 5, let alone for Churails. There is a reason why Samuel L Jackson's fan base has more men than women and although when he curses, abuses or uses the F word, it suits him but sadly that couldn't be said about most of the characters in this web series. Indians might find it acceptable as their audience has been 'educated' through films when it comes to cuss words, Pakistani audiences are still new to such profanities.
Also, it seemed that the director had a checklist with him while he was writing the script; put an African American in the series (since I know one), use a wedding planner as one of the characters (since Anushka Sharma played one in Band Baaja Baaraat), must use Juice as a Talent Agency's name (as one similarly named exists in reality) etc. I have never seen a Pakistani woman, no matter how progressive, marry an African American, but since a supermodel slept with one in Fashion, it had to be done. Checked. The same goes for many other things that we have seen in many TV shows and films, such as Charlie's Angels, Big Little Lies, Women's Murder Club, The A Team, Hustle, Ocean's 8, Remington Steele and so forth. To add insult to injury, a plagiarism charge was also leveled against the makers who used a French illustrator's work in the opening credits, without giving him the credit.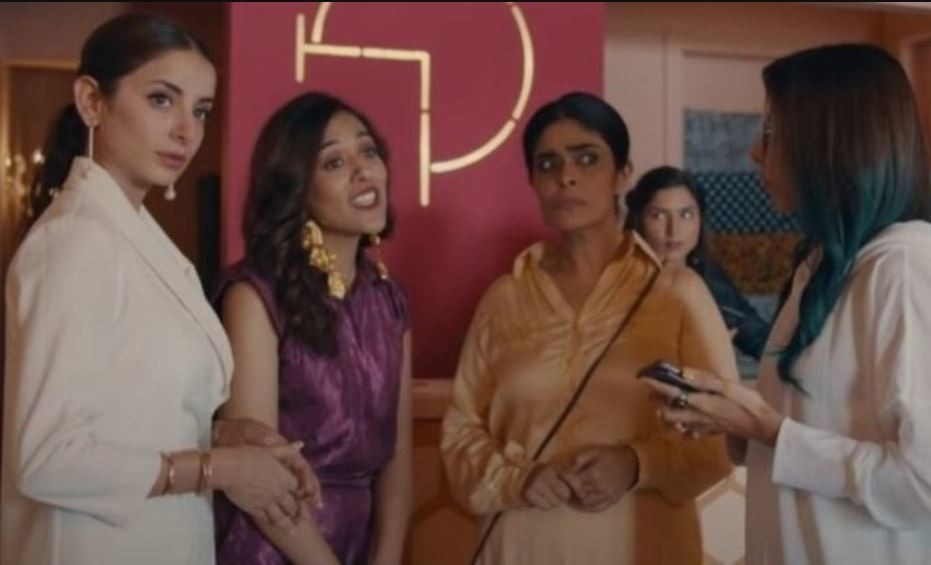 And finally, there was the deliberate use of words Burqas, Halal etc. in a negative manner. The writer/director may not live in Pakistan but the cast and the audience does, and so do the people who love to raise hue and cry over everything. Burka Avengers was not targeted because it was an animated series and the superhero was doing good work while donning the Burka but here, when the Burka was off, there was drinking, smoking, drug use among other things that could anger some people. Zee 5 is already on thin ice considering it is an Indian platform airing Pakistani content; they should have objected to it, but they didn't and one hopes that it doesn't make people angry. Sarmad Khoosat's Zindagi Tamasha still hasn't seen the light of the day because of some minor issue, and no one wants the same thing to happen to any other project. Especially one that shows mard in a bad light as if most of the men are bad, except for a few when in general, the good ones are in the majority.
The Verdict – Amazingly Done With Minor Issues!
Churails tackles a lot of taboo subjects in its first season – from domestic violence to forced marriages, beauty complexes to abortions, prostitution to cheating husbands – and manages to make the audience think because either they or someone they know has gone through one of the issues presented here. The idea behind the show may seem filmi but the characterization covers it well. Be it an ex-con, an educated housewife, an abused woman, a wannabe actress, a transwoman, a hacker or someone hurt by men, Churails has it all and that's one of the reasons why it was chosen as Zee 5's entry into Pakistan. It may have too many dialogues in English, and was above 18 just for the sake of it, but it thrusted Pakistan into the world of international web series, and it is still being discussed across the border two weeks after its release.
Compared to the earlier web series produced in Pakistan, Churails may look visually appealing but the writing and editing still needs to improve. At times it got dragged but when you do something for the first time without a blueprint, this is bound to happen. Now that the team behind Churails has understood the game, they will come up better prepared with the next season. However, before that, many others will showcase their work and some might be better than Churails, so Asim Abbasi and his team will have to raise the bar if they want to show that Pakistan has talent, and they have stories that no one is interested in telling.