The year 2020 will be remembered for many things and for rising star Srha Asgr, it'll go down as a year when she delivered two of her most memorable characters to date. Though Srha appeared in drama serials such as Waada, Ki Jaana Mein Kon, Babban Khala Ki Betian, and Meer Abroo, it was her work in 2020 that can be considered landmark. From playing Bilal Abbas' bossy sister in Pyar Ke Sadqay to playing his younger sibling (again) in Ek Jhooti Love Story, Srha Asgr proved to be an actor with immense potential. And she can't be limited to acting. She was also behind one of the most-watched dance videos of the year, and she choreographed one of the most-hyped web shows in 2020.
We met up with the young trailblazer to ask about everything she had planned for the year up ahead and the one that was just ending…
Instep: Would you count 2020 as your breakthrough year?
Srha Asgr: I wouldn't call it my breakthrough year but my most important year since my debut in Khoat in 2015; I managed to work with the best people in the business. It was the experience I gathered from the last five years that helped me immensely in 2020, be it in Pyar Ke Sadqay, Ek Jhooti Love Story or various couple of digital projects I did.
Instep: Were you always interested in acting or did it happen by chance?
SA: Actually, it was my elder sister who was more filmy than I was; we spent our weekends watching Bollywood flicks and grew up on them. Growing up, I wanted to become a Fashion Designer but since I was terrible at drawing, the idea was to become a journalist who could critique fashion. However, I fell in love with filmmaking before I could switch my course at SZABIST, and that stint sort of brought back the memories of yesteryears, and that's how it all began.
Instep: You played Bilal Abbas' sister in not one but two projects; was that somehow planned or was it just a coincidence?
SA: Bilal and I know each other from our early days; when Q Links started their talent agency 'Talent Eye', we were amongst the first few youngsters they launched and from there on, we became good friends. However, in Pyar Ke Sadqay I was first offered the character of Shanzey, which later went to Yashma Gill. They 'unselected' me because I looked too young to be Bilal's love interest. However, when I was offered the role of Washma, I went for it as it gave me the margin to perform. Along the way, Farooq Rind had some extra scenes written for my character since he believed it was integral to the plot. Also, sharing the screen with Atiqa (Odho) ji, Omair Rana, Bilal Abbas, and Yumna Zaidi, I managed to learn a lot of things that would help me in the coming days.
Instep: Then there was the 'Dil Se' video, the superb treat for the eyes ahead of Independence Day. How did that happen?
SA: My dear friend Rabya Kulsoom Rehan and I are actually dance enthusiasts who work as Danceography, a platform we created last year. After we put out the 'Haye Dil Bechara' dance video in July this year, the designer who sponsors our dresses approached us with the idea of doing something for Independence Day. Since there was hardly any time left, we quickly decided on the song 'Dil Se', the theme and within a couple of days, the video was shot, edited, and ready for release. Since it paid tribute to all the regional dances of Pakistan through a very emotional patriotic number, the video went viral and audiences from all over the world hailed it as one of the best things to come out during the pandemic.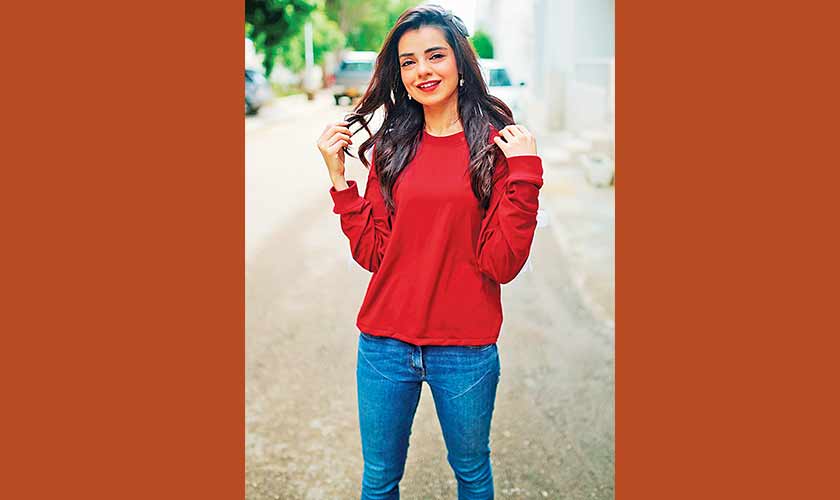 Instep: We also saw your name in the credits of Mere Dost Mere Yaar Season 2. How did that happen?
SA: Again, Rabya and I choreographed the title sequences of the second season of Mere Dost Mere Yaar. There were many who inquired why I had not acted in the series but I think that through the title track's choreography, we managed to register our presence in the show, even if it meant doing it behind the scenes.
Instep: And then there was Record, the horror flick that came and went without making its presence felt at the box office?
SA: Record was offered to me last year but since the director never got back, I didn't think much about it until they approached me with an offer and a script. For five days' work, it was a decent attempt at the horror genre; I accepted it because the character I played was integral to the plot. It was released in February and since COVID-19 was on the rise, it didn't do well at the box office, however, it did help me tick the 'Film' box in my To-Do list (laughs).
Instep: Name one actor you would love to work with in the future?
SA: Saba Qamar; I find her a very natural and amazing actor and have been following her work since she was part of Hum Sab Umeed Se Hain. In male actors, I would like to do a TV Commercial with Fawad Khan just for the experience; he was impressive in Kapoor & Sons, and like everyone else, I loved his performance in the movie.