Though Covid-19 has destroyed life as we knew it, it has also provided us with something that we didn't have – time. With no outings on your calendar, no event to take you away from home, and no Eid gatherings due to government restrictions, you have all the time you need to relive classic TV dramas on YouTube, where they are now available. All you need is a good internet connection and a free schedule to go back in time without leaving the comfort of your TV lounge. I have shortlisted some of the best TV dramas, which were instant hits when they aired, and are now considered classics for withstanding the test of time. Happy watching.
Tanhaiyyan (PTV, 1986)
Cast: Shehnaz Sheikh, Marina Khan, Asif Raza Mir, Jamshed Ansari, Qazi Wajid, Behroze Sabzwari, Badar Khalil, Azra Sherwani and Durdana Butt
Writer: Haseena Moin
Director: Shehzad Khalil
No list for must-watch dramas would ever be complete without the mention of Tanhaiyyan, which had Shehnaz Sheikh and Haseena Moin reunite for the second and final time. The dynamic duo of Shoaib Mansoor and Mohsin Ali were replaced by visionary director Shehzad Khalil, and a serious play was developed that had its share of laughter, happiness and crazy characters. Moreover, it went on to become so famous that Indian films were made on Tanhaiyyan's blueprint. After so many years, it still inspires many dramas.
Tanhaiyyan was the story of Zara (Shehnaz Sheikh) and Saniya (Marina Khan) who lost their parents in Lahore while they were visiting their aunt (Badar Khalil) in Karachi. When the elder sister found out that their father had left a lot of debt behind, they had to sell the house he built to pay off his debt, leaving Zara with a mission to buy back the house in any way she could. With the support of her childhood friend Zain (Asif Raza Mir), and help from his fiancée (Yasmeen Ismail) and her business partner Saad Salman (Aamir Hatmi). Zara manages to run a successful business and achieves her mission when she realises that no matter what she does, she can't bring back her parents. That's when she has an accident and has to be brought back to Karachi, where her family nurses her back to life, and she goes on to live happily ever after.
Haseena Moin knew how to create characters and come up with a story that uses them all intelligently. We still love Qutubuddin Qabacha because he was transformed from a robotic person into a romantic one within the play's thirteen-episode duration. Faran (Qazi Wajid) is amongst the most loved khalus in PTV's history. Buqrat and Apa Bi (Jamshed Ansari and Azra Sherwani) are considered the ideal employee and employer, respectively. Add to that the love triangle that Zain and Zara were oblivious to, the arrival of their father's friend (Mohammad Yousuf) and Zara's accident and you had a perfect drama that had everything from romance, comedy and tragedy to suspense rolled into one. The way it promoted strong women is still something that not many serials have been able to do since, and we must thank the makers for thinking out of the box for the audience.
Ankahi (PTV, 1982)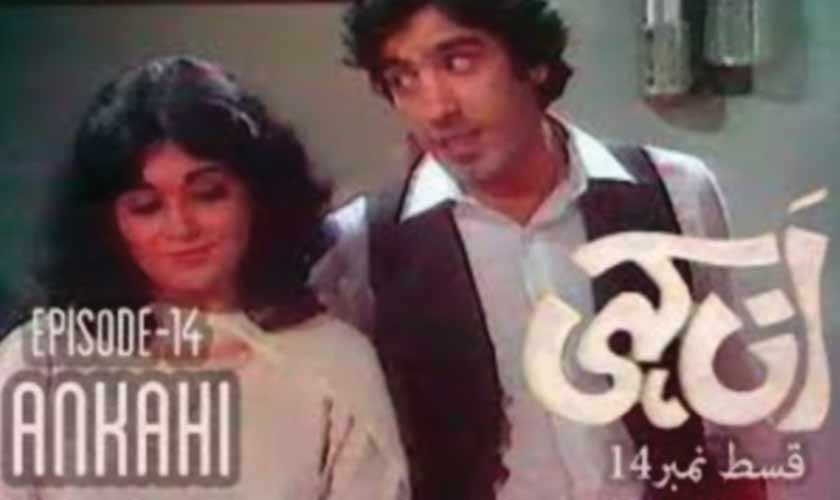 Cast: Shehnaz Sheikh, Shakeel, Javed Sheikh, Jamshed Ansari, Saleem Nasir, Qazi Wajid, Behroze Sabzwari and Badar Khalil
Writer: Haseena Moin
Director: Shoaib Mansoor and Mohsin Ali
In the 1980s, Pakistan's film industry was going through a difficult phase, leaving Pakistan Television (PTV) as the only source of visual entertainment for the viewers. The only tough competition was from the VCR culture that brought pirated Hollywood and Bollywood films to the viewers, and discouraged people from watching TV serials that revolved around serious issues. All that changed with Haseena Moin's Ankahi, in which she not only introduced new talent but also used older actors wisely, tackling the onslaught of Bollywood films with such power that Ankahi is still considered superior to many flicks from that era.
The story of Ankahi revolves around Sana Murad (Shehnaz Sheikh), who wants to become wealthy, so that she can pay for her younger brother Jibran's heart operation. But since she neither has the resources nor the intelligence to achieve her dreams, she usually spends her time with her relatives and friends that include a jack-of-all-trades mamoon (Saleem Nasir), Timmy (Jamshed Ansari), Mobi (Behroze Sabzwari), Faraz (Javed Sheikh) and others. When she finally gets a job, she wreaks havoc through her incompetence but stays in the position because of Siddiqi sahib (Qazi Wajid), who is the father-in-law of her boss (Shakeel) and likes Sana despite her failings. As Faraz, Timmy and Mobi become interested in Sana, who is interested in her boss, things head for a climax that is solved expertly by the writer and directors.
The play was Shehnaz Sheikh's first TV serial and she became an overnight sensation because of her brilliant performance, her ability to act according to the situation and, of course, her beauty. People loved Javed Sheikh's portrayal of an empty-pocketed Romeo who falls in love with Sana and ended up in filmdom, such was his popularity at the moment. Saleem Nasir's Shehryar aka mamoon was his first attempt at comedy after a long time and is still loved by the audience. The same can be said for Behroze Sabzwazri and Jamshed Ansari's Mobi and Timmy, respectively. The script was the king, and so were the characters, and even after 40 years, the drama is still living through its brilliance.
Waris (PTV, 1980)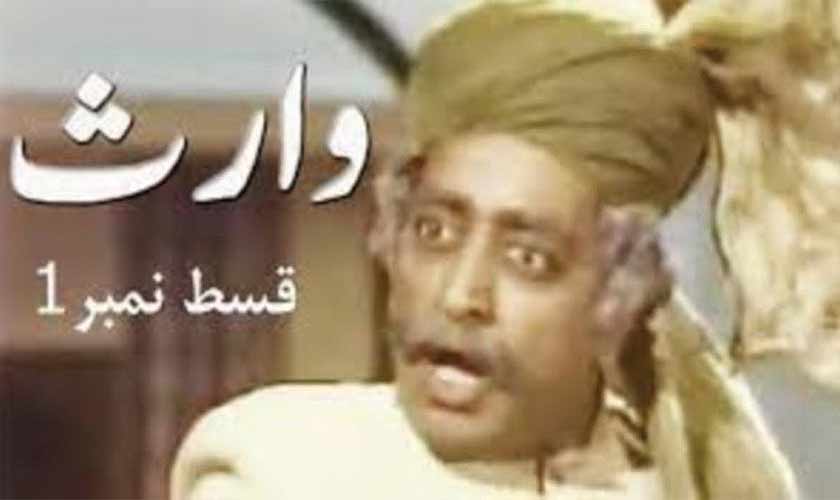 Cast: Abid Ali, Mehboob Alam, Uzma Gillani, Firdous Jamal, Munawwar Saeed, Shujaat Hashmi, Agha Sikandar, Sajjad Kishwer, Aurangzeb Leghari, Samina Ahmed, Nighat Butt and Tahira Naqvi
Writer: Amjad Islam Amjad
Director: Nusrat Thakur and Ghazanfar Ali
If ever the history of Pakistan Television is written, and a list of the best screenplays written for national television is compiled, Amjad Islam Amjad's Waris would be among the top three. Not only was it one of the most original TV series, in an era when PTV relied mostly on adaptations, it also went on to debut several great actors.
Besides having an excellent ensemble cast, it told a story that reminded the audience of the greatest English novels. There was a zameendar, Chaudhry Hashmat (Mehboob Alam), who ruled his village with an iron first. He had an old man, played by Sajjad Kishwar, imprisoned in his haveli. His guard (Abid Ali) was on a mission to find the killer of his older brother. The zameendar's son (Munawwar Saeed) wanted his daughter to marry his elder brother's son (Agha Sikandar), so that he could have the lion's share in his father's property. To make matters more interesting, the landlord was against industrialisation, favoured his wild grandson (Firdous Jamal) over his educated brother (Aurangzeb Leghari), and had no clue about their half-brother from another daughter-in-law (Uzma Gillani) his eldest son had married secretly.
If that doesn't remind you of classical literature, I don't know what will. The drama had 13 episodes. It first aired during the last week of 1979 and went on to become one of the biggest hits of Pakistan Television. Acclaimed Bollywood script writer and poet Javed Akhtar once called Waris one of the best TV dramas of all time, and hailed the way it was written and directed at a time when high-budget dramas and ensemble casts weren't common.
Sunehray Din (PTV, 1991)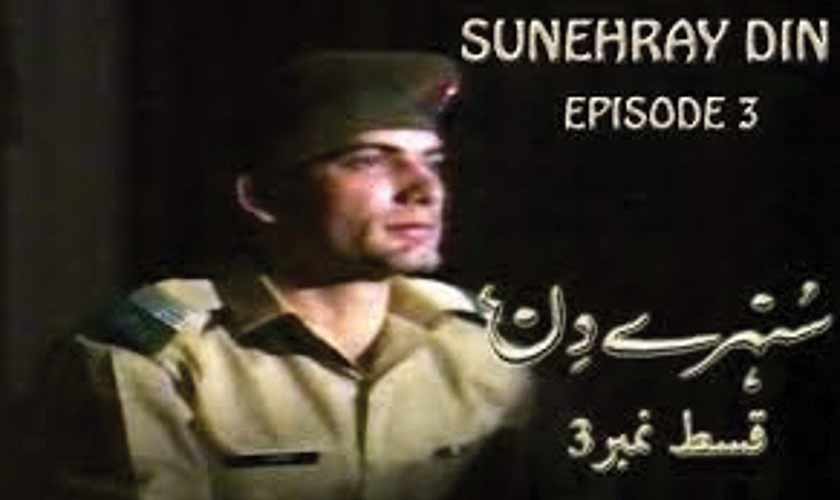 Cast: Saleem Sheikh, Kiran, Aliya Kazmi, Azra Mansoor, Mumtaz Musharraf, Musharraf Ali Khan, Faraz Inam, Capt Qasim, Hameed Wyne
Writer: Shoaib Mansoor
Director: Mohsin Ali & Shoaib Mansoor
Directed by Ankahi directors Syed Mohsin Ali and Shoaib Mansoor, and adapted by Shoaib Mansoor from Brig Saulat Mirza's literary classic, Kakooliyat, and Col Ashfaq Hussain's Gentleman Bismillah and Gentleman Alhamdullillah, Sunehrey Din was the ISPR's first attempt at a TV serial. Before that, they had dabbled in the Nishan-i-Haider series or a couple of long-form plays for the PTV. This mini-series, comprising six episodes, did exactly what CHiPs and General Hospital did for the American youth – make the audience fall in love with the institution. While CHiPs made people appreciate law enforcement, General Hospital must be credited for people developing a love for the medical field. Here, Sunehray Din was presenting the Pakistan Army in the same way.
Not only were many people, like this scribe, inspired to apply for the Inter-Services Selection Board (ISSB) after watching Sunehray Din, the respect for the institution grew manifold, which was exactly what the doctor ordered after Gen Zia ul Haq's tenure came to an end with a plane crash. It also kick-started the careers of Javed Sheikh's younger brother Saleem Sheikh, Kiran and model Aaliya Kazmi, besides bringing Hameed Wyne and Azra Mansoor into the limelight. Capt Qasim and Faraz Inam, who later reprised their roles in the sequel to this series, Alpha Bravo Charlie also started their acting career from here. Sahibzada Mushraraf Ali Khan, a grandson of Pakistan's first prime minister, Liaquat Ali Khan, and his wife Mumtaz Musharraf (the parents of Abbas Ali Khan and Moazzam Ali Khan), also acted in the drama and were loved by the audience.
And why wouldn't they love the drama? It revolved around the life and times of a carefree youngster Safeer (Saleem Sheikh), who joins Pakistan Army with the help of his grandfather (Hameed Wyne) to prove his mother (Azra Mansoor) wrong. He falls in love with his neighbor, Ainy (Kiran), decides to teach Faraz (Faraz Inam) a lesson who thinks that he is her fiancé when he isn't and, above all, shows the effort of getting into the army, and how it makes a man out of a nobody. Add to that the constant bickering between the two oldies (Hameed Wyne and Musharaf Ali Khan) and the audience had a great six half-an-hour episodes that they would never forget.
Dhuwan (PTV, 1994)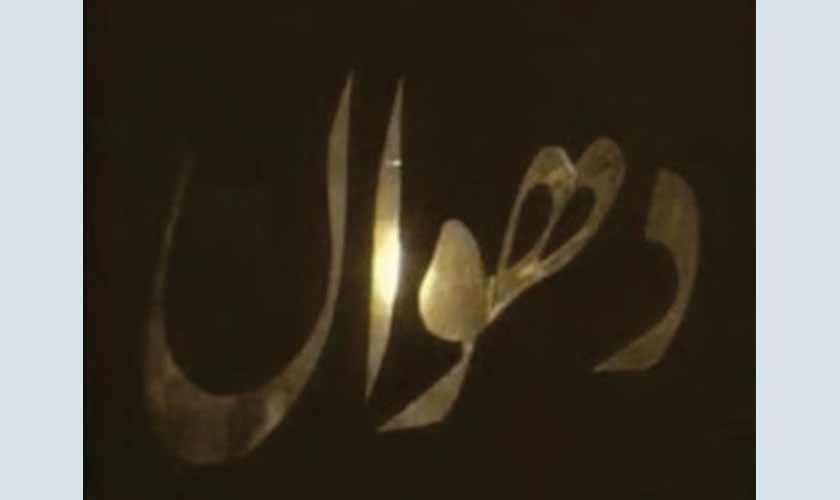 Cast: Ashir Azeem, Nabeel, Nazli Nasr, Asal Din Khan, Wajid Ali Shah, Zubair Khan Achakzai, Nayyar Ejaz
Writer: Ashir Azeem
Director: Sajjad Ahmed
Back in the 1990s, when PTV was up against its first competition – Network Television Marketing – the big wigs at the national network started experimenting to attract viewers. It was the viewers' good luck that united them with Ashir Azeem, who wrote Dhuwan as a novel during his days at the Civil Services Academy. The plot was more to the liking of people favouring English action serials and that's what attracted the TV executives as well.
Dhuwan, in which Dawood (Nabeel Zafar), Hameed (Zubair Khan Achakzai), Uzma, Wajid (Wajid Ali Shah), ASP Azhar (Ashir Azeem) and Naveed (Asad Din Khan) came together to rid the city of major crimes in a manner shown on TV in Miami Vice, The A-Team and even MacGyver. Within days, Dhuwan became the next big thing because of its stunts, crisp script and direction, which was fresh and fashionable at the same time.
The character of Dawood (played by Nabeel) died during the show and the audience's reaction was so real that the TV executives had to clarify that the actor was alive, and that only the character had died. Farrukh Abid's brilliant background score and the use of Nusrat Fateh Ali Khan's Kisi Da Yaar Na Vichray would have made anyone believe that whatever was shown on TV was real. Issues such as drug trafficking, extortion and terrorist activities were addressed in the serial that lasted for less than 13 episodes, because the writer wasn't in favour of a second season, though the TV executives were. He therefore killed all the characters in the eleventh and final episode, causing the kind of reaction that the disbanding of Strings caused earlier this year.