Covid-19 may have destroyed the tradition of eating indoors, but it has heralded the era of the food carts in Karachi. Though it might not be something new for those who frequently travel abroad, for Karachiites who don't use their passport very much, this has turned out to be a blessing in disguise. Food carts give people the chance to try out new cuisine, while observing the coronavirus SOPs.
The history of
food carts
While some may not agree that the thailay walas, who have been roaming around since the 1950s, were pushing business carts, the fact is that they were the first ones to use them as a source of income. Be they gol gappay or ice cream vendors, food carts have been a part of our culture for over six decades. With the passage of time, pushed carts were replaced by bicycle-driven carts and, in some cases, a combination of the two.
Who can forget the signature tune of Wall's Ice Cream that helped them become the most-loved brand of the '90s. It was this successful marketing that allowed Wall's to acquire Polka, the top ice cream brand at that time. Other brands also followed suit, especially rival ice cream companies. And though all the ice cream vendors usually thrive in the summer months, they were rivalled by part-timers, who used their food trucks for extra income. Some sold home-made burgers and others came up with beef and chicken biryani. Not having a shop saves vendors a lot of expenses. However, they are all now being replaced with food carts that don't need a season to survive or a part-timer to operate them.
Jack Bean
When actor Ali Salman (Chairman), joined hands with marketing gurus Omar Hassan (CEO) and Zohaib Khan (COO), they knew that they had to come up with something that would start a trend. The three owners founded Jack Bean, which not only offers world-class coffee, but brings it to you as well. Above all, the trio's goal is to make their brand competitive with the top global on-the-go coffee brands in terms of quality, taste and unique signature offerings.
So, what is Jack Bean and why is it special? "We are Pakistan's first true coffee brand. Our objective is to promote the coffee and not the location that we sell it in, meaning we are not a café; we are just coffee," CEO Omar Hassan tells The News On Sunday, while taking a break from his hectic schedule. "We serve our own exclusively blended coffee that you cannot get anywhere else. And it's not just coffee that we are selling, we are also selling a signature line of cheddar-coated bagel-based cheese paninis, classic hotdogs, Karachi-style hotdogs, the dessert dog, macarons and brookies. Everything that is served must contain Jack Bean's signature twist and maintain high standards, but keep the prices real and remain within the on-the-go model."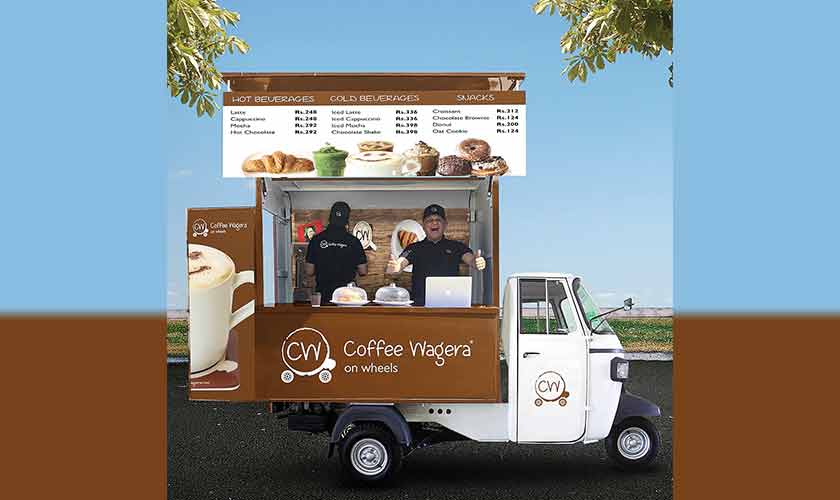 The recently launched brand is following the hybrid model of café carts and pop-up stalls at convenience stores and supermarkets. Drinks are served in paper cups, with only takeaway and delivery options available. They are taking coffee back to its urban roots and making it an on-the-go drink. Their café carts have been carefully designed to reflect the standards of the brand and engineered to protect the baristas and customers amidst the pandemic. The prototype has already been engaged in commercial activity. However, since the launch of the full menu, which now contains over 50 items and carries a line of more than 10 types of live roasted hotdogs, the carts are undergoing a design upgrade to support the menu, including the summer beverage range.
Omar Hassan adds, "our business model is to serve freshly-brewed coffee wherever our consumer is, as opposed to them coming to where we are. We believe that there is immense potential for growth in coffee consumption in Pakistan, which is currently being capped by limited accessibility and premium pricing. The on-the-go model enables us to serve premium coffee at price points lower than those of cafés, at places that support consumer traffic. From now on, consumers will not have to go out of their way to grab a cup of their favorite coffee. Instead, they will find us at places of convenience, in terms of their daily routine and commuting routes."
Coffee Wagera On Wheels
Mush Panjwani, chief happiness officer at Coffee Wagera, wants others to be as happy as he is. From replying in a classy style to his sad customers to asking strangers to visit his Coffee Wagera outlets, he has become a friend to everyone. Last week, he expanded his business by launching the first Coffee Wagera On Wheels, near the iconic Habib Bank Plaza on II Chundrigar Road. The launch was successful because of word of mouth, as well as social media, which is likely to help them extend their business in other parts of the country.
Food carts give people the chance to try out new cuisine, while observing the coronavirus SOPs
"Food carts, food trucks, coffee carts, etc have been very common around the world for many years. It is not a very popular phenomenon in Pakistan, yet. You can think of a number of reasons why the trend is picking up so late, the number one being less pedestrian traffic in metropolitan cities. People in Pakistan don't like to walk as much as people do abroad, and that's why we have more fixed restaurants than moveable ones," Mush Panjwani says of what he sees as the missing link in the life of a Karachiite.
"One has to look at different things when launching a brand on wheels. Not only do they have to get permission from the KMC, the DMC, the police and other authorities, they also have to be ready to pay extra to avoid being evicted and removed. The legalisation of these businesses would not only encourage others to think about going into business, but would also make the process easier," Panjwani adds.
Talking about Coffee Wagera, which celebrated its third anniversary on April 1, Mush Panjwani happily mentions that they started with the goal to break even in three months. After achieving that, they decided to start a "franchise programme before completing one year." They followed that goal by successfully opening "five outlets before completing two years." Their next goal is to have at least twenty outlets of Coffee Wagera on Wheels in the first five years. With two years still to go, they have five outlets already and are planning to open outlets in Bahria Town Karachi and in the city of Hyderabad right after Ramazan.
"Covid-19 may not have treated many well, but it has sort of made people go for takeaways and deliveries. That, in turn, has pushed businesses on wheels in the right direction. We have seen thailas all our lives in the metropolitan cities of Pakistan, but while they pose a threat due to the unhygienic conditions of the carts and the driver, here, we serve coffee in a clean environment, prompting others to do the same."
"If well-known brands start offering their trademark pizza, burger or coffee on wheels, it will be successful. We launched our first Coffee Wagera On Wheels last week and the response was tremendous. We believe that by the end of the year, there will be at least 10 Coffee Wagera On Wheels in Karachi or in other cities, hopefully."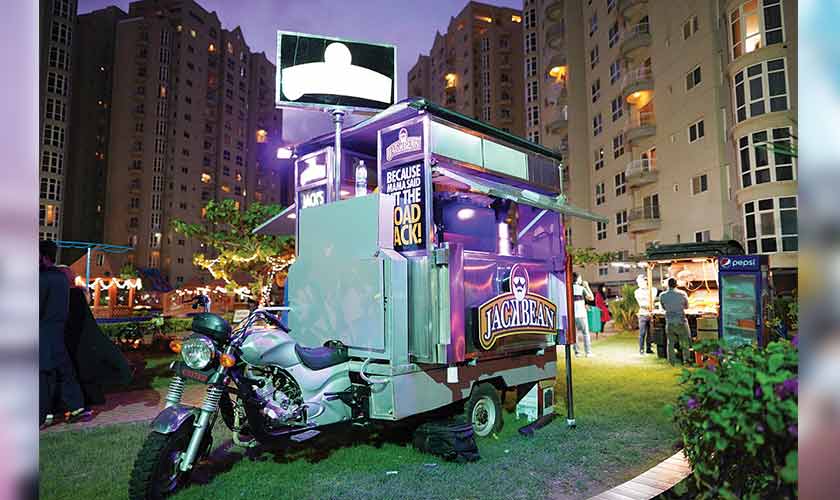 The Bao Bae food truck
And then there is the real-life version of the hollywood movie Chef, in which Jon Favreau played the cool dad. Saif Ali Khan starred in the Bollywood version as an excellent cook without a restaurant. The Bao Bae truck has it all. It not only houses the cool chef, but it is a restaurant on wheels that offers you the "stuff that dreams are made of". You might not be able to sit anywhere nearby to enjoy their food but, with Covid-19 still lingering, that's probably the best way.
At the moment, the Bao Bae food truck is limited to the corner of Chota Shahbaz in Karachi's Defence. However, due to their quick service that begins at sunset and goes on until stock lasts, you want to be there when the food truck begins its operations. Serving baos and udon noodles at the moment, they bring an international touch to their truck – one that might outlive the pandemic too. After all, how many places can claim that they offer authentic baos and udon noodles that can be eaten on the road, in your cars or at home as takeaway dishes?
Bao Bae is the first product of the Eat Truck Co, which is one of two new platforms (the other being Eat Cloud) of Karachi Eat. One of the founders of the Eat Festivals and Eat Food Pakistan, Omar Omari believes that it is time that people started realising what's good for them, and going for food that is served on wheels is one such thing.
Omari says that "Karachi Eat was started to create a platform for food businesses and food entrepreneurs. It has given rise to countless restaurants and food chains since its inception, nine years ago. The Eat Truck Co and Eat Cloud were created keeping in mind the same principles: creating new opportunities and platforms for food entrepreneurs to try out their skills and business without the added headache of heavy investments."
He adds, "unlike other food conglomerates, we are a company with a heart, and our main focus will always be to help our partnering businesses grow along with us. Launching Bao Bae in Karachi is just the first step; we plan to follow it with many more."