Rising to prominence in three of the biggest recent serials – Ramz e Ishq, Deewangi and Tarap – Hiba Bukhari may have taken some time to graduate to lead roles but now that she's there, she's completely in command. Just like Nageen, her character in Deewangi, her career has taken a much deserved turn for the stronger.
Hiba Bukhari isn't your average actor. First of all, she had no intention of becoming an actor when growing up and she stepped into the business with caution, starting out as a model and then taking time with supporting roles before easing into leads. Slow and steady, over the course of five years since making a TV debut with Teri Meri Jodi in 2015, Hiba has managed to prove her mettle as a high-quality performer.
Instep met up with the rising star to talk about her struggle, her career-defining performances and about constantly getting kidnapped in dramas!
Instep: Is it true that Haseena Moin inspired you to get into acting?
Hiba Bukhari: I grew up watching classic PTV plays in the 1990s and was always fascinated by the heroines created for TV dramas by Fatima Surayya Bajiya and Haseena Moin. My dream was to be 'discovered' by one of them. Incidentally, Haseena jee was present at the Arts Council the same day my mother and I went there to attend some festival. While my mother was anxiously talking to her, Haseena jee asked her whether her daughter (that's me!) would be interested in acting. My biggest dream was sort of accomplished for a few seconds! My mother smiled and politely said no but that moment opened a window for me. A few months later, when I was signing for a photography class at the Arts Council, Ahmed Shah sahib came to me and advised me to sign up for an acting class instead. I don't know why, but I listened to him and thankfully, it helped me a great deal later.
Instep: How did you manage to convince your mother, who was initially against your acting?
HB: Her only issue was that no one in our family had worked in showbiz and her daughter shouldn't be the first; she didn't count on my father who is quite a filmi person like me. They gave me permission to act, but in supporting roles, and that's how my journey began with Teri Meri Jodi. After just one supporting role, I was offered Bholi Bano and since my parents had seen me act, they were satisfied that I was working with the right people. They let me be Bholi Bano.
Instep: Be it Bholi Bano, Tarap, or even Deewangi, stalking and kidnapping have been central themes of these dramas in which you've been in lead. Why?
HB: I think writers like the way I respond to a kidnapping (laughs)! I have no idea what makes them think of me if there is a kidnapping angle in their plays. I have been kidnapped (or stalked) by top actors of all eras – from Babar Ali (Tarap) to Syed Jibran and Danish Taimoor – and I couldn't be happier (smiles). They are all very good actors and I liked sharing the screen with them, even if as a damsel in distress! I believe that every few years, something comes in and becomes part of our drama culture and these days it's kidnapping. I hope in the coming days, more angles are added to our stories so that I get to do something else, something different.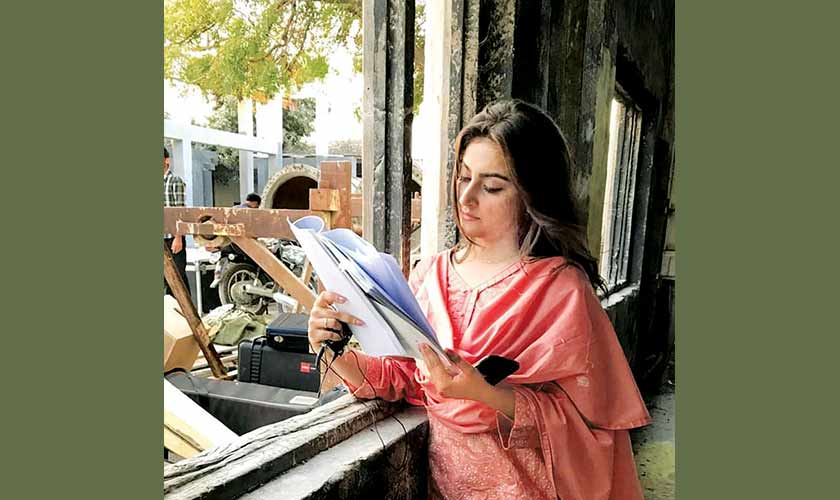 Instep: Do writers approach you only when they want a girl to be kidnapped or add the kidnapping angle after they cast you?
HB: I don't want to be kidnapped onscreen again unless it's by Shah Rukh Khan (laughs)! There is a lot of scope in dramas where stalking and kidnapping isn't part of the plot. Deewangi was more about romance and mystery than kidnapping and it was because of the other things happening to the main characters that it got good ratings.
Instep: Deewangi was one of the biggest hits of the year; how did it help your career?
HB: I was offered Deewangi while Ramz-e-Ishq was on air; I guess it was because of my performance that the makers wanted to cast me for the role of Nageen, who is a righteous girl and knows when to take a stand. It was my second play with Danish (Taimoor) after Haara Dil and we both knew how to give space to each other's characters. Being a filmi kind of a drama made it all the more interesting and I was pleasantly surprised when people approached me on Social media and wanted to know the ending. I thank the director Zeeshan Ahmed for keeping the momentum till the climax where I get to shoot the person responsible for ruining my life, and the audience liked the end, as did I.
Instep: Tell us about your upcoming play with Faysal Quraishi, tentatively titled Affair.
HB: Deewangi helped me bag the role opposite Faysal Quraishi, who is not just a versatile actor but a very appreciative co-star. I always wanted to share the screen with him and through Affair, we will be part of an ensemble cast that also features Wahaj Ali, Kiran Haq, Kamran Jeelani, Saba Hameed, Tanveer Jamal, and Saife Hasan. It has been written by Zanjabeel Asim Shah while my Ramz-e-Ishq director Siraj ul Haq has directed the project. It will be airing very soon and I am sure that the audience would appreciate it in 2021, just like they appreciated my characters in Tarap and Deewangi in 2020.