Geostorm***
*ing: Gerard Butler, Jim Sturgess, Abbie Cornish and Ed Harris
Directed by Dean Devlin
Dean Devlin is back and this time, he brings with him the mother of all disasters – Geostorm. The writer of Independence Day, Godzilla, and Stargate makes his directorial debut through a film where an airplane falls from the sky and into a street and where the US President is not to be trusted. With a satellite that once saved millions of lives but has now gone rogue, it's a different kind of apocalyptic world. Interesting choice for a debut.
The plot revolves around a satellite designer called Jake Lawson (Gerard Butler) who is sent into outer space to investigate errors in the satellite he created. What he discovers is much worse; the equipment was deliberately sabotaged by someone on Earth who has an ulterior motive and that the President of the United States (Andy Garcia) might not be the man people think he is. Jake's brother Max (Jim Sturgess) tries to help him before the world falls prey to Geostorm that will not only damage Earth (in parts) but also destroy the satellite station Jake is on. Do the brothers manage to save the world and the lives of millions? Watch the film to get the answers.
Geostorm has an ensemble cast that includes Ed Harris, Andy Garcia and Abbie Cornish other than Gerard Butler and Jim Sturgess. However, the special effects in the film remain its strongest component. The audience may not find the trailer likable but the witty script, the suspense quotient and the twists and turns in the plot will keep you guessing until the very end.
Only the Brave***
*ing: Josh Brolin, Miles Teller, Jeff Bridges, Jennifer Connelly, James Badge Dale, Andie MacDowell
Directed by Joseph Kosinski
Some films, based on real incidents, don't necessarily depict a happy ending. Only The Brave is one such movie that follows the real-life disaster of Yarnell Hill Fire of 2013 where the Granite Mountain Hotshots laid down their lives while trying to save their county from wildfire. The film takes the audience into the lives of the heroes who showed courage in the face of danger and perished, knowing that they had done their best.
The plot revolves around the life and times of Eric Marsh (Josh Brolin) and his crew of firefighters who managed to make a name for themselves by daring greatly.
Jennifer Connelly also stars in the story as Amanda Marsh, who wants to start a family but work keeps Eric away. As soon as they qualify to be Hotshots, they try to make a difference before perishing in the very fire they once defeated.
The emotional range of every actor is on full display and they do a first-rate job particularly during tragic and chaotic moments. Like the great disaster flicks of yesteryears, this one has a cast to die for, literally. Josh Brolin and Jennifer Connelly play the couple all the people look up to while Jeff Bridges and Andie MacDowell play the senior couple. Miles Teller stars as the unanticipated firefighter who has nothing to lose followed by others who live dangerously so that their family and friends can sleep in peace. Director Joseph Kosinki must be commended for bringing together a cast that not only resembled the firefighting heroes but also do a stand-up job of depicting their lives so that people can understand the harsh reality of their lives.
Golmaal Again***
*ing: Ajay Devgn, Parineeti Chopra, Arshad Warsi, Tusshar Kapoor, Kunal Khemu, Shreyas Talpade, Tabu, Johnny Lever, Neil Nitin Mukesh
Directed by Rohit Shetty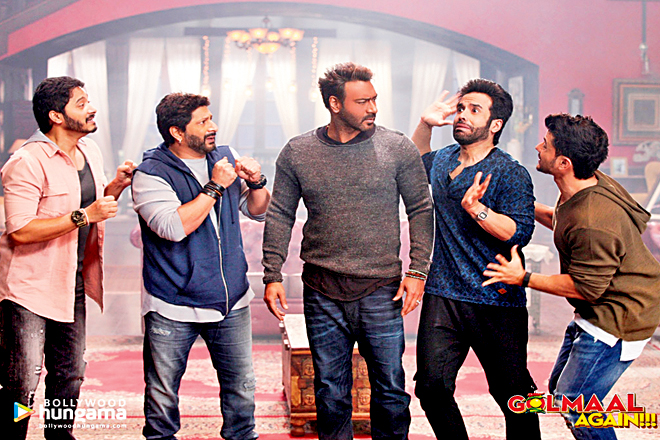 Whenever Ajay Devgn and Rohit Shetty have joined hands, they have created magic. It seemed about time that they ventured into the world of magic once more and through Golmaal Again, they have come up with a film that is on its way to success. The gang is back after seven years but it seems as though they never left. The chemistry between all of them is still unmatched and if you can swallow magic over logic, this is the film for you.
The story revolves around a bunch of orphans led by Gopal (Ajay Devgn) who return to their orphanage after the death of their mentor. Madhav (Arshad Warsi), Laxmans (Shreyas Talpade & Kunal Khemu), Pappi (Johnny Lever), Babli (Sanjay Mishra), Vasooli (Mukesh Tiwari) and Lucky (Tushaar Kapoor) find out that their mentor's death was no accident and they decide to solve the homicide case as a way of giving him closure. With the help of Anna (Tabu) and an unordinary source, they are steered in the right direction. In the process, there is laughter as well as some haunted moments but they are mixed together so well that the audience will end up enjoying the film.
Rohit Shetty is a master of comedy and here he shows that he can give people like Ram Gopal Verma a run for their money with hints of horror. Johnny Lever steals the show with his short-term memory loss act while the regulars impress as always. Some of the situations are borrowed from Hollywood flicks such as Home Alone and Fallen but they don't look awkward as they are made to be funny. The film may not be as logical as Bollywood's latest releases but being illogical is its biggest strength. The way it is leading the charge at the box office, it might end up becoming Ajay Devgn and Rohit Shetty's biggest film to date.